上海十一选五彩乐乐:Chinese photographer wins international award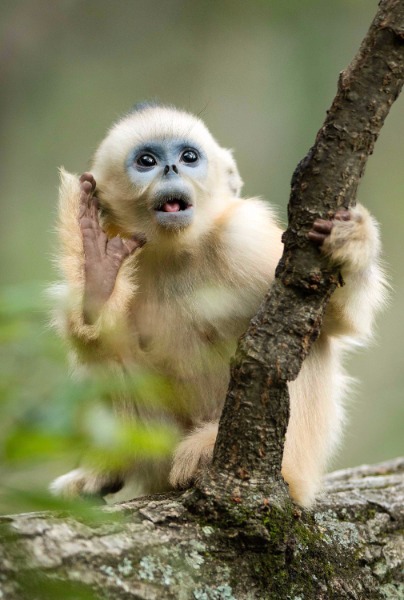 上海十一选五360彩票 www.czyym.com A little golden snub-nosed monkey calls his mother when he finds wild kiwis for a meal - the motion that lasted for only two seconds was captured by Chinese amateur photographer Ding Kuanliang.
With this photo, Hello, Mama, Ding won The World of Mammals category of the Glanzlichter 20th International Competition of Nature Photography. The 58-year-old bank clerk from Hohhot, North China's Inner Mongolia autonomous region is the first Chinese to win in this category.
"I thought I could give it a try, but I never expected to win the award," Ding said.
The Qinling Mountains, with an average elevation of approximately 2,000 meters, is a precipitous mountainous region in China. Whenever he is free, Ding travels more than three hours in the early morning and carries 15 kilograms of photography equipment to go to the area where he can shoot the monkeys with a camera.
Ding has been shooting these "cute but endangered animals" for 17 years. He has taken over 150,000 pictures of them so far.
When asked why he's spent two decades taking pictures of the same animals, he said as the environment has been deteriorating, he hopes to draw public attention to protecting nature and wild animals, such as golden snub-nosed monkeys, and achieve harmonious co-existence between humankind, nature and animals.
"Some of the rare species, such as the golden snub-nosed monkeys, might be extinct eventually, so I want to use the power of photography to make people be more concerned about them," Ding said.